They say "wherever you go, there you are".  I'm not sure who "they" is, and a cursory Google search did not provide me with a definitive answer, but I know they say it - I've heard it.  Just trust me on this one. And while I believe in this sentiment of governing your own happiness, I can't say that your surroundings (or at the very least your affinity towards your surroundings) plays somewhat of a role in your day to day outlook.
Since striking it out on my own, my love affairs with my locales have been varied and distinct.  I think of Stanford like a high-school love - innocent and full of potential, the kind that stays with you forever but you know you were bound to outgrow.  New York City will always remain that all-consuming first-love - fast, deep and powerful - but the tumultuous kind that sucks you in and spits you back out.  I will forever long to return to NYC, but I know with that kind of love, it's never really as good as the first time. 
And then there is Venice. My first adult relationship with a city.  I was careful and slow to warm, and we learned each other at a time in my life when I was just finally learning myself.  I loved the duality - lazy artist beach town meets gritty and disenfranchised.  Everyone is free to be themselves - even though sometimes you feel pressured to be as "free" as the person next to you in their thrift-store scarf, sipping their Intelligentsia and not caring that Sookie and Bill Compton are sitting two feet away.  I digress. I love Venice, and it's simple, self-curating take on culture.  Great restaurants, bars, and galleries all set against the backdrop of the subversive Boardwalk culture and the nightly drum circle.  It's simultaneously anti-establishment (bye-bye Pinkberry) and boho chic, and it does a good job of making any NYC transplant feel at home - East Village meets the ocean with a little twist of Baltimore thrown in for good measure. 
In the end, I was forced to break-up with Venice for a lack of sufficient funds, but this love is the kind that is meant to be, where you know one day when (not if) you run into each other again and the timing's right, it will last forever.
5 Food-Based Reasons I Can't Wait To Move Back To Venice Someday
(Or At Least Visit in the Meantime):
1. Gjelina Take Away
1429 Abbot Kinney Blvd
Venice, CA 90291
My favorite restaurant in Venice (in all of LA??) opened a to-go shop right next door. I'd been waiting for this since July 2009 and so glad it is finally open. Perfect for when you can't score that reservation for over two weeks from now and the wait for the communal tables is a mile long.  Scones, egg sandwiches, their perfectly thin and crispy pizzas - all the best parts of Gjelina in a to-go box!
Photo credit: Eater LA
2. Bye, bye Beechwood, hello Roy Choi
I have to admit I was never a big fan of Beechwood, save for those sweet potato fries (which are so 2000 and late) - and I wasn't too excited when former Top Cheffer Jamie Laurent took over the kitchen either (though I expected some serious scallop dishes.)  Low and behold, Beechwood has shuttered and Eater LA tells us soon it will be a West Indian concept from none-other-than our favorite Kogi extraordinaire Roy Choi.  Love what he has done with his two other brick and mortar forays (Chego and A-Frame), so the idea of him taking on West Indian sounds amazeballs.  To be fair, I still need to Google West Indian food, but I'm sure if he's behind it, it will be delish.  (Don't believe me? Try his beer-can chicken)

Photo Credit: Guzzle and Nosh
3. Larry's @ Hotel Erwin
1697 Pacific Ave
Venice, CA 90291
Hotel Erwin is a charming boutique hotel in the heart of Venice, with an amazing rooftop bar (High) and now a restaurant led by Waterloo & City chef Brendan Collins.  Outdoor tables, eclectic beer specials from around the world, and European-influence cuisine similar to Waterloo & City - can't wait to sit outside and enjoy the Green Curry Mussels and an ice-cold beer.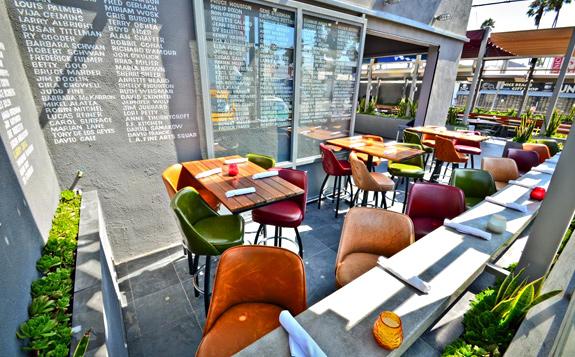 Photo credit: Urban Daddy
4. Axe
1009 Abbot Kinney Boulevard
Venice, CA 90291
Rising from the ashes like a phoenix, Axe has returned to Abbot Kinney one year after a fire shut it down.  Some of my favorite brunches have included the 9-grain pancakes, the fried egg dish, and their fresh squeezed OJ.  Glad to have this neighborhood staple, with it's permitted back patio, back on the block.
5. Local 1205 / Wurstkuche
I'll file both of these together as reason #5 - restaurants to come! Rumors of a westside Wurstkuche outpost and of course, the much anticipated opening of Local 1205 by the Otherroom guys - something I first blogged about many many moons ago.  Those two, along with a potential Cafe Habana outpost, all make Venice a very attractive locale for the car-resistant resident.  (Or at least for a resident that wants to sub the Honda for a beach cruiser all weekend long).
Watch out Venice - I'm coming back for you…